Is your child an Invisalign clear aligners student or considering starting the new school year with Invisalign? You might be wondering what back to school with Invisalign would look like. Howard Orthodontics has helped many students every year with Invisalign, and we would love to tell you all how Invisalign can be perfect for students.
What Is Invisalign?
We understand the importance of feeling confident at Howard Orthodontics, especially during those transformative school years.
Enter Invisalign: a series of tailor-made, clear aligners crafted to fit seamlessly over the teeth. Forget the metallic glint of traditional braces; these aligners are so discreet they're almost like your teen's secret.
Each aligner in the series plays a role, gently nudging their teeth a little closer to that dream alignment. Typically, they'll sport each one for about two weeks, witnessing the magic unfold as your teeth find their perfect spots.
Bonus: The removability of Invisalign means your teen can dive into that crunchy apple or savor that sandwich without a second thought. Invisalign offers no food restrictions, no worries about tidbits getting trapped, and certainly no brace-related mishaps.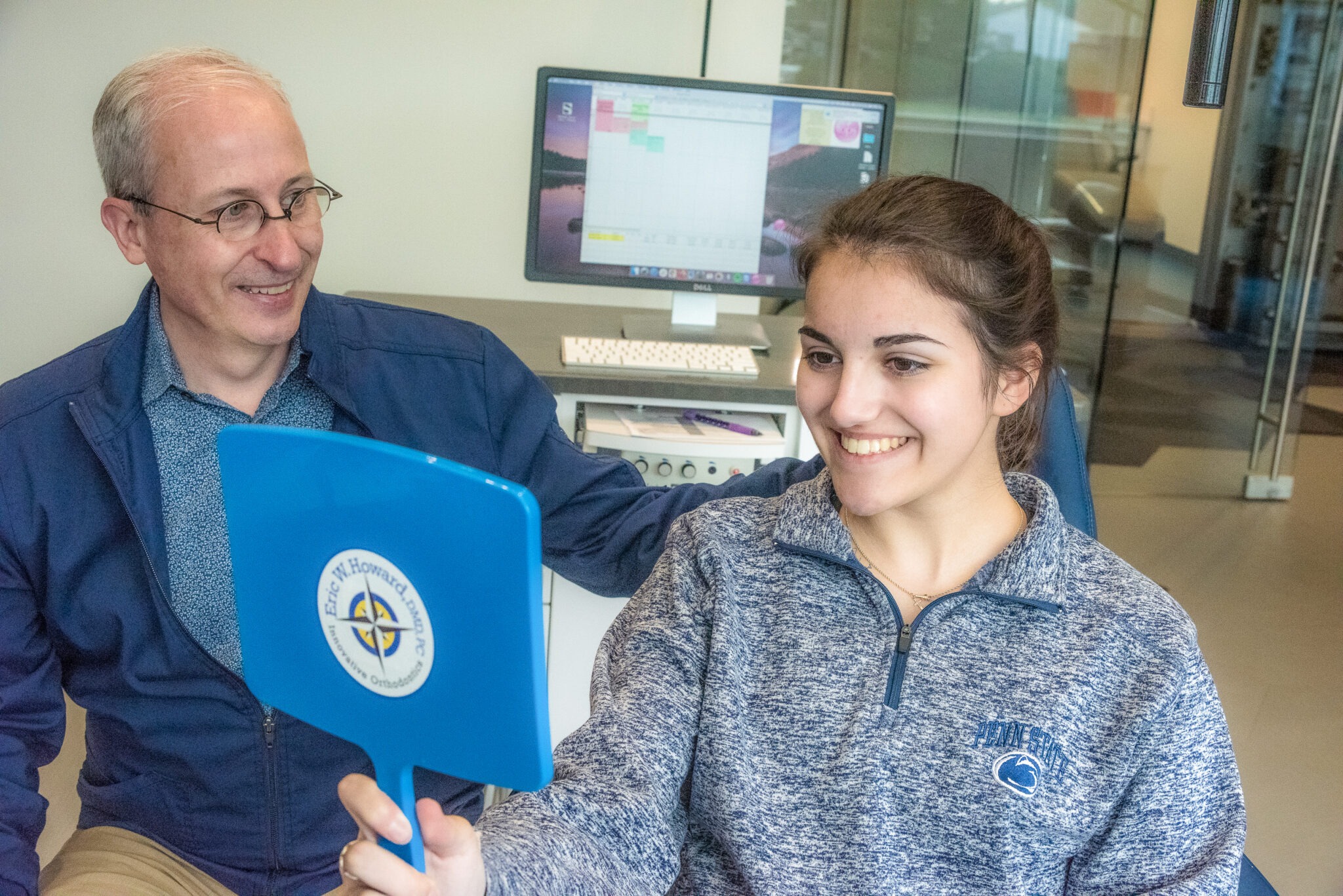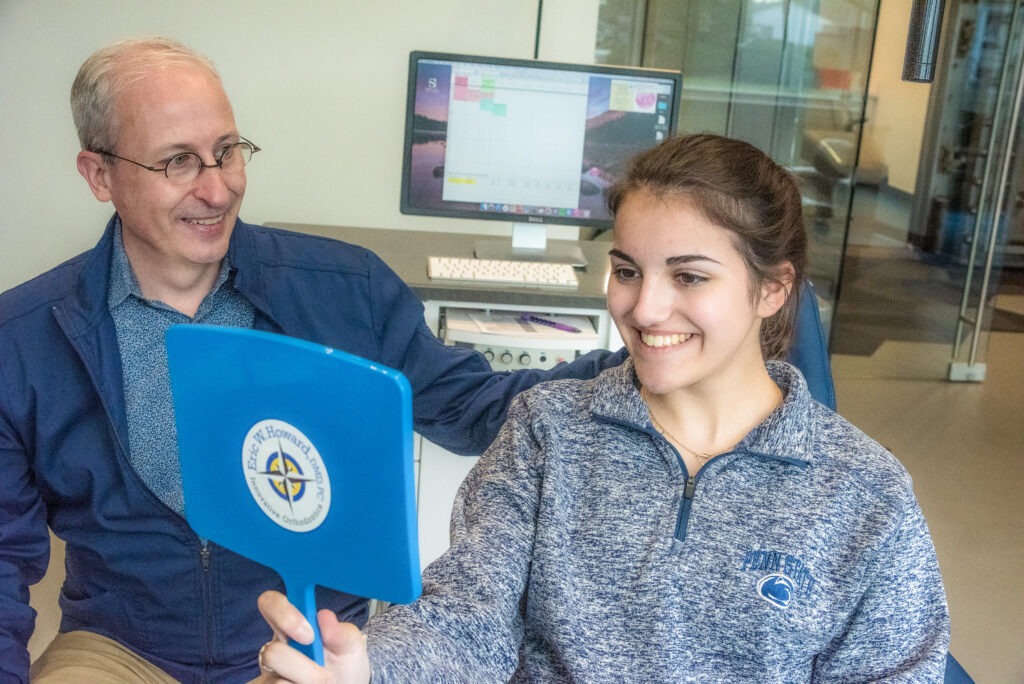 Back-To-School Tips For Invisalign Students
Navigating the bustling hallways, juggling classes, social life, and hobbies can be a whirlwind. And if your teen is embarking on their Invisalign journey amidst all this, we have some handy tips to make it smooth sailing for everyone.
Storage:

First things first, your teen should always have their Invisalign case handy because they will need a safe spot to store their aligners when they take them out. Wrapping them in a napkin might seem convenient, but it's also an easy way to get them accidentally tossed! The case also better protects the trays from germs, spills, and getting accidentally broken. The case is easier to keep up with and better protects the trays from germs, spills, and getting accidentally broken.

Routine:

At Howard Orthodontics, we're all about creating healthy habits. We recommend setting an alarm or reminder on your child's phone or device to ensure they wear their aligners for 20-22 hours. Those small breaks during lunch or an activity add up and can prolong their overall treatment time. Reminders keep them on track.

Hygiene:

Encourage your child to take a quick trip to rinse out their mouth and aligners after meals before popping them back in. They can also pack a travel-size toothbrush and toothpaste for brushing their teeth. A clean aligner maintains its transparency and comfort!

Inform:

Tell their teachers or school about their aligners. A support system at school can remind your child to wear their aligners, give them time after lunch or snacktime to clean their teeth, and possibly provide relief (such as an ice pack) when your child is uncomfortable.

Reusable Water Bottle:

A hydrated child is less likely to develop dry mouth, which could make wearing their aligners uncomfortable. Water consumption also keeps their breath and aligners smelling and tasting fresh.
Orthodontic wax:

This product is for when the aligner irritates the cheek or gums. Discomfort is more likely to occur when your child adjusts to a new aligner or if their aligner is damaged somehow. Whatever the reason, easy-to-apply and removable orthodontic wax can keep them comfortable.
What Their Day Will Look Like With Clear Aligners
To show you how non-invasive Invisalign clear aligners are to your child's routine, we're going to walk you through Olive's day. Olive is a hypothetical teenage Invisalign patient.
Olive kickstarts her morning by gently taking off her clear aligners. With a dab of mild toothpaste and a dedicated soft-bristled toothbrush, she ensures they're spick and span. A quick rinse with room temperature water, and they're set aside to air-dry. Meanwhile, Olive can perform her oral hygiene routine with ease. She slips on her now-dry aligners after breakfast and a mouth rinse and is all set for a day at school.
Lunchtime rolls around, and Olive pops her aligners into their case. She can pick from any item on the lunch menu thanks to the freedom the clear aligners offer. A swift mouth rinse, and a brush later, Olive is back with her aligners, ready for the afternoon.
Olive comfortably wears her aligners during band class but can remove them if needed. After school, she swaps her aligners for a mouth guard, guaranteeing her teeth are protected during practice. Because Olive can sip water throughout the day without needing to remove her aligners, she feels great outside during practice.
As you can see from Olive's day, clear aligners will improve your child's smile without disturbing their school routine.

Howard Orthodontics Can Give Your Child The Smile They Dream Of!
Schedule a free consultation with our excellent team in Willow Street! Dr. Howard will create a personalized treatment plan and design custom aligners for your teen to make sure their specific needs and concerns are addressed without significantly changing their lifestyle.
Don't forget to follow us on Instagram!